It's hard to believe, but this year macchina.io Remote Manager already turns 10 years old. Of course, the current version of Remote Manager has not much in common with its early humble beginnings (back then called my-devices.net), except for the basic product idea: providing secure, hassle-free remote access to IoT devices via web and other protocols like SSH, VNC or Windows Remote Desktop.
And what better way to start the next 10 years than with the release of macchina.io Remote Manager 2.0. This release brings significant improvements. Highlights include:
A new web-based user interface for managing users, roles, permissions, device domains and tenants.
New and improved management of device domains. Domains are now full-blown entities and can have a name, description and other attributes for improved manageability.
Support for multi tenancy – groups of users can be managed independently by tenant administrators. 
New Remote Manager Helper application: This is a Windows application that can be downloaded from the macchina.io website and allows for seamless integration between the macchina.io Remote Manager web user interface and client applications for SSH, VNC or Windows Remote Desktop.
Many other improvements such as JSON Web Token (JWT) support, webhooks, improved REST API, improved performance and much more.
The full list of improvements and changes can be found in the CHANGELOG.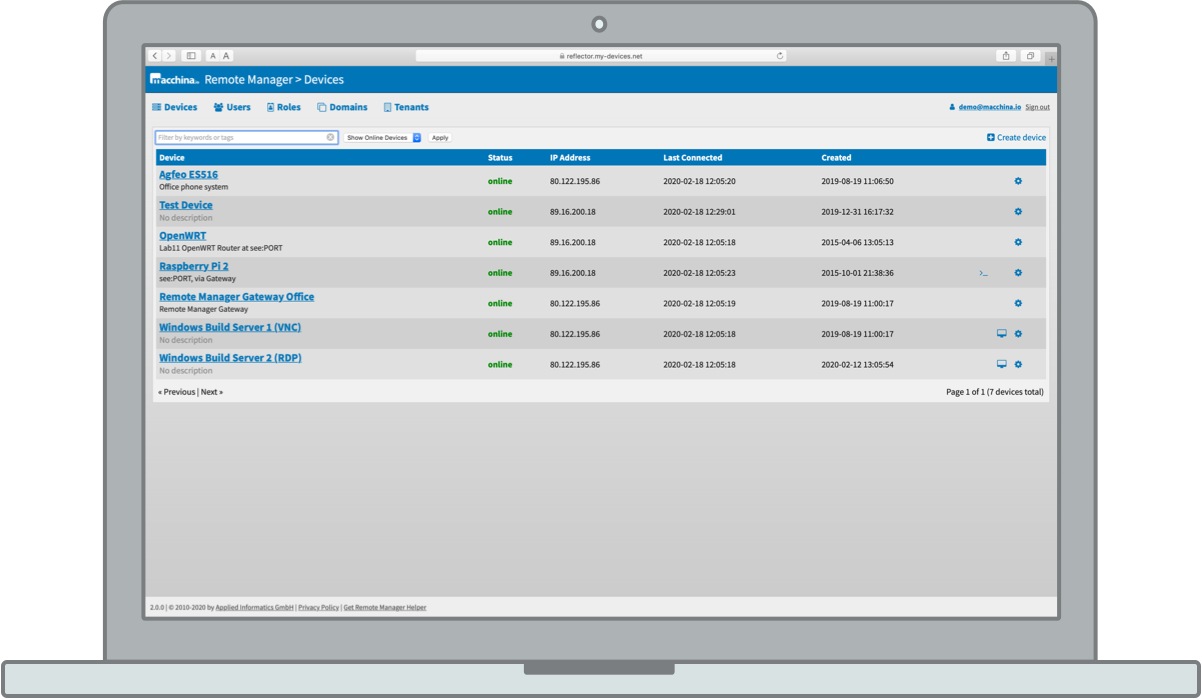 For more information, read our white paper. Or sign up for a free account and connect up to five of your IoT devices.