Today we're releasing version 2.4.0 of macchina.io Remote Manager. The most important feature in this release is support for two-factor authentication using time-based one-time passwords (TOTPs), such as supported by apps like Google Authenticator or Authy. 
If enabled in the global application configuration, a user can set up two-factor authentication in their account page in the web user interface, and then import the generated TOTP secret into their favorite authenticator app by scanning the displayed QR code. Takes less than a minute to set up.
There have been a few other changes as well, you can find all of them in the Changelog. The user interface has also been polished a bit.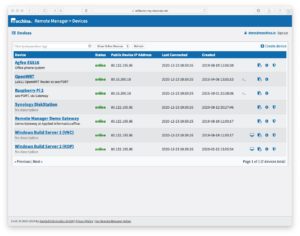 Want to try out the new features? Sign up for an account on our test server here.
This also concludes our work activities for 2020, and we're closing down for the holidays. Merry Christmas, Happy Holidays and all the best for 2021. It's going to be an exciting year.